Getting here
However you wish to travel to the Clare Valley, there's a service to suit.
By car
The Clare Valley is well suited for a self-drive holiday, with most visitors using their own vehicle or hiring one in Adelaide from one of the many city-based hire car companies. The Clare Valley is only 90 minutes drive from Adelaide - simply head North, leaving the city at Gepps Cross. The most direct route is to follow Port Wakefield Road onto the Northern Expressway, and then turn left onto Horrocks Highway, just after the bypass to Gawler. Alternatively, if driving from Port Augusta you could head South on the the A1 Highway and take the turnoff from Crystal Brook to Horrocks Higway, or for the scenic route, take Horrocks Pass to Wilmington, and then follow Horrocks Highway through the Southern Flinders Ranges to Clare. Use the Map to help plan your route.

By coach
If you don't wish to drive, several coach services, such as Yorke Peninsula Coach Lines (www.ypcoaches.com.au), operate between Adelaide, the Clare Valley and other regional localities. Alternatively, local tour operators can provide transfers from Adelaide.
By air
Private and charted aircraft can utilise the Clare Aerodrome, located 14 kilometres North of Clare, off Horrocks Highway and RM Williams Way. See www.clarevalleyaerodrome.com.au for further details.
Getting around
By car
The Clare Valley is perfect touring country, with diverse countryside, scenic routes and mapped trails and circuits. Having your own car will provide you with the freedom to either plan your daily route or be spontaneous, as you travel through the varied landscapes, from quaint townships, rolling vines, tree-clad hills and spectacular agricultural plains. Pick up a Visitor Guide and Map from the Clare Valley Food Wine and Tourism Centre, who will also be able to provide assistance in planning your visit, whether its following the scenic driving routes to secluded boutique wineries or exploring the more remote back roads along Goyder Driving Trail, World's End Circuit or Dare's Hill Circuit.
By bike
The Clare Valley provides a picture book backdrop for a leisurely bike ride, with many budding and professional cyclists visiting the region to cycle the 32 kilometre Riesling Trail, the 19 kilometre Rattler Trail and other routes. Cycle hire is available from various locations, including Riesling Trail Bike Hire, Clare Valley Cycle Hire and Cogwebs.
On foot
If you'd rather explore the region on foot, there are a number of self-guided town and nature walks that take you on a journey of historical discovery and through beautiful countryside. Brochures are available from the Clare Valley Food Wine and Tourism Centre and townships within the region.
With tour operators
There's nothing like exploring a region with a local, so take the hassle out of exploring the best of the Clare Valley by utilising the services of an experienced local tour operator, such as Clare Valley Experiences, Clare Valley Tours, Clare Valley Taxi or Daisy's Vintage and Classic Cars. Local operators offer tours ranging from half-day to a week, based around a fixed or personalised itinerary, with a vehicle to suit your needs, whether it is a large bus, minibus, 4WD or luxury car. Special interest tours are available, focusing on wine and food, heritage, nature, art, aboriginal history and culture, as well as transfer services if required.
By taxi
Whether it's a transfer from the Clare Aerodrome to your accommodation, to your favourite restaurant or winery, Clare Valley Taxis operate a taxi service throughout the region.
Wineries Map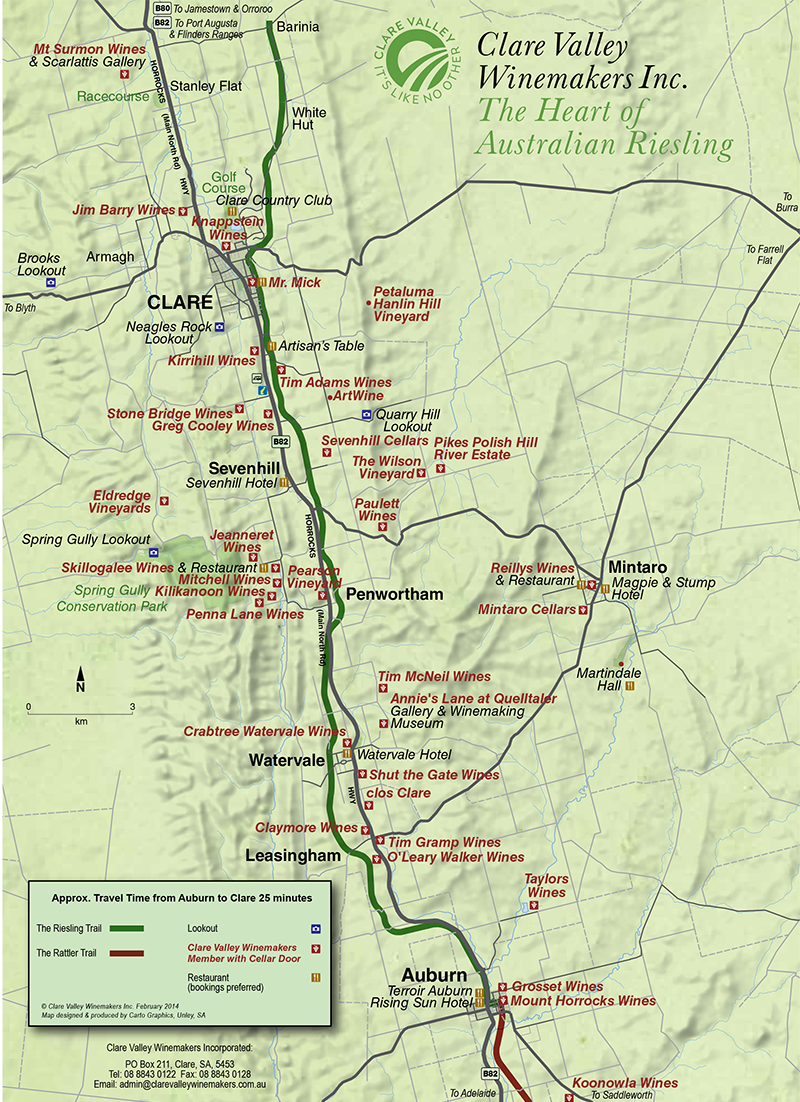 Download PDF
Riesling Trail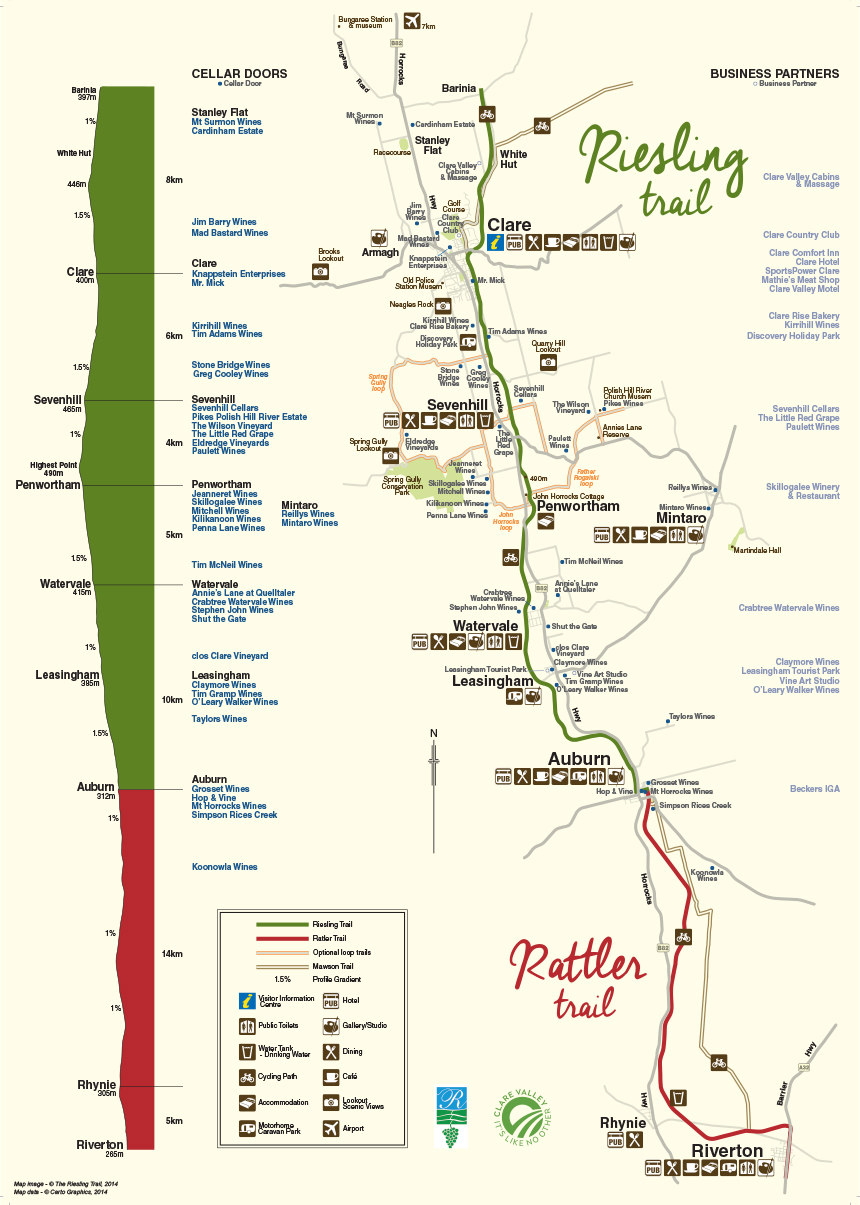 Download PDF